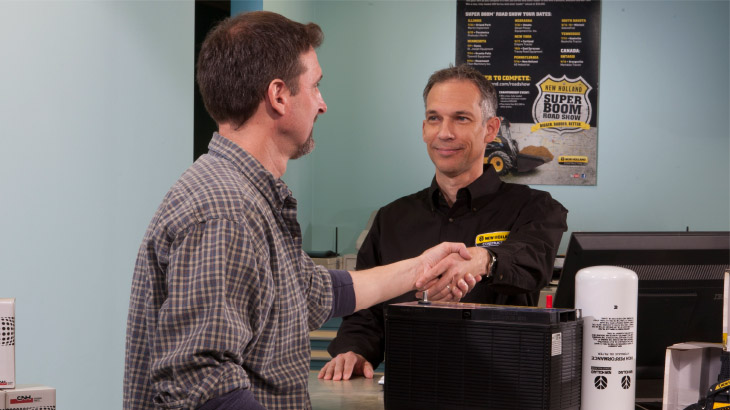 Martin Implement Sales Markets across Platforms with Winsby as a Partner
Like most equipment dealerships Martin Implement has a lean marketing team. Responsibilities for promoting the business belong to Bruce Novak, one of four owners, and Marketing Director Erika Novak. The two rely on Winsby to supplement their internal efforts and maintain a strong brand presence across a variety of platforms.
Print Marketing Evolved into Digital
Martin Implement first began working with Winsby under a corporate marketing program orchestrated by New Holland. But the even after that program ended, they stayed on with Winsby, as they replaced print marketing with cost effective digital efforts.
Boosting their online presence was a key initiative when they first starting working with Winsby in 2008. "We had a visually appealing but static website," explained Bruce. "Much of the content wasn't searchable from an SEO (search engine optimization) standpoint."
Content Boosts Website Traffic
With Winsby's guidance they began to create content to boost organic traffic. "Our traffic is now fairly robust," said Bruce. Winsby provides website updates and SEO services, while blog posts are written by the dealership. Bi-weekly emails are designed and deployed by Winsby, but they often feature content from the blog as well as customer spotlight stories.
With equipment buyers and renters changing the way they seek out information, being able to provide content on all platforms, including mobile, is extremely important to the dealership. Consistency in branding and conveying the uniqueness of the dealership is key.
"We don't have to worry about the materials going out in the wrong colors and incorrect typography," said Erika. "We also like that they analyze and recommend new technologies to use."
ClearTail Provides Website Visitors
One such technology is ClearTail, a lead generation system that measures customer engagement online. Winsby helped the dealership get off and running with the program. It enables salespeople to better understand what products and services their customers are interested in.
Expanding Online Presence Consistently
According to Bruce, Winsby is a good solution for any company looking to expand its brand presence. "Winsby provides valuable expertise and an array of services for putting together a sustainable plan. The process evolves over time, but if you are willing to commit to it, the results will come," he said.
With sales that have risen each year since they have partnered with Winsby, the results have materialized for Martin Implement. While Bruce Novak acknowledges many other factors impact sales, he believes it's difficult to grow without awareness—something Winsby has definitely accomplished.