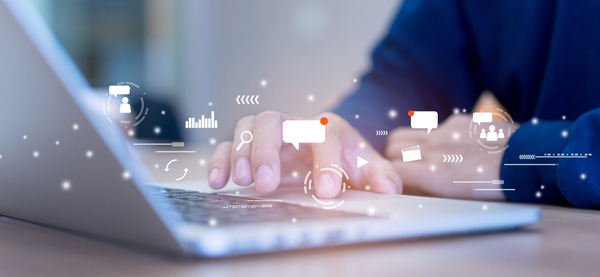 B2B Social Media Marketing
There is a common misconception that B2B companies do not benefit from using social media. The belief is that, because they are not selling directly to consumers, most social platforms don't offer much value for companies that sell to other companies. However, this belief is a myth. B2B companies have a lot to gain from using social media marketing and developing an effective B2B social media strategy.

The key thing to remember is that, even if you're selling to businesses, you're actually selling to a person. Social media helps you reach the decision makers within companies who decide whether to go with your product or service. And they are most likely on social media. In fact, about 84% of C-level and VP-level buyers are influenced by social media when purchasing and 54% of B2B marketers report that they generate leads using social media platforms.

Decision makers and buyers are on social media and are always on the lookout for ways to improve their businesses. With a solid social media strategy, you can put your product or service in front of them and encourage them to enter your sales funnel.

How to build a B2B social media strategy
Before your B2B business can start using social media effectively, you must first develop a strategy. That strategy involves determining which social media platforms to use, what types of content to publish, how frequently to publish, and how to gauge the success of your social media activities.


Determine why you want to use social media
B2B social media should be used to increase brand awareness, educate your audience, build credibility, and establish your business as the expert in your field or industry. Use platforms like LinkedIn and Facebook to share blog posts, talk about upcoming promotions and offers, post about your products or services, and share customer spotlights or case studies. Twitter is great for sharing company news or updates, while Instagram should be used for image heavy content of employees, your products in action, or your team out in the field and community.

All of these types of content will familiarize potential customers with your operation, what you're all about, and what you offer.


Identify your social media audience
Knowing your audience will make the difference between an effective and ineffective B2B social media strategy. If you don't want your content and hard work to fall on deaf ears, you need to identify your target customers on each platform. There are different ways to find your audience. First, you can see what your competitors are doing. Look at which platforms they use, what kind of posts they share, and what types of people like and share their content. You can also look up several of your biggest or best customers on social media to see which groups they are a part of, who they follow, and what types of content they share.

Tailor your content to the types of things your existing customers are interested in, build engagement with them, and the platform often will put your content in front of similar types of people. It's also a good idea to share your social media profiles in your marketing emails, on your website, and any other promotional outlets to encourage customers and potential customers to follow you.


Develop a content plan
As we mentioned, social media can be used to share a variety of different types of content to educate, inform, and familiarize your audience. Probably the most important types of content for your B2B social media strategy are customer stories. These can be reviews, videos of them using your products and services, longer testimonials, plus customers interacting with your team. This type of content will make you appear more trustworthy and will show that you have a track record of success. It's also a good idea to share personal content about your employees. Who's doing well and why? Are there any milestones? Is there anything especially important happening in their personal life? Things like that can make your company and team seem more relatable and friendlier.

In addition to personalized customer and employee stories, you can also use social media to inform your audience about your products and services, along with upcoming promotions or specials. If it's fall, and you have a product that is used in the winter, share posts that highlight the product features, how it's used, and how customers have benefitted from it. Share best practices for how to use the product or type of product. If you have a deal that is going to save your customers a lot of money, social media is the perfect way to let them know about it.

Share content that is personal, useful, or valuable in some way to your B2B social media audience.


Build a calendar for each platform and stick to it
Create a social media calendar to ensure that your marketing is consistent across all social media platforms. Each platform you use needs its own calendar. Most social media experts will say that you should post at least once per day on every platform. That's a good rule of thumb, but the most important thing is to consistently post so the most recent post on your page isn't from a month ago. If you can post three to five times per week and aim for once a day, then you should be set.


The top platforms for B2B social media are
#1: LinkedIn – For thought leadership content (blog posts, infographics, industry news)
#2: Twitter – For interacting with customers
#3: Facebook – For employee and customer stories and promotional ads
#4: YouTube – For how-to videos, interviews, product demonstrations
#5: Instagram – Culture centric images and videos and products and employees in action
Rolling Out Your B2B Social Media Strategy
Once you have defined your social media strategy, all that is left to do is to create content that aligns with it, schedule it for publishing, and monitor the results. Hootsuite and Sprout Social are two of the most popular social media management solutions for businesses that want to simplify scheduling, posting, and measuring.
It is also important that someone in the business not only schedules your social media posts, but actively monitors your social channels and responds quickly to user inquiries or reviews.
Get Your Employees Involved
Who better to shed light on the "human" side of your B2B business than the people who keep it running? Getting your employees involved in the process is one of the best B2B social media marketing strategies. Employees can help spread the word about your content by sharing and commenting on it. This is especially true on LinkedIn, where personal profiles often outperform company pages in terms of reach.
The Last Word
The social media landscape is constantly changing, so the most important thing to remember is that no social media strategy should be etched in stone. The content and creative teams at Winsby work together to create and execute social media strategies that deliver results for B2B companies. If you don't have the bandwidth to develop and maintain a social media plan for your business, our team can help.
Call us at (312) 870-5656 or contact us online to learn more about what our B2B social media marketing services can do for your business.