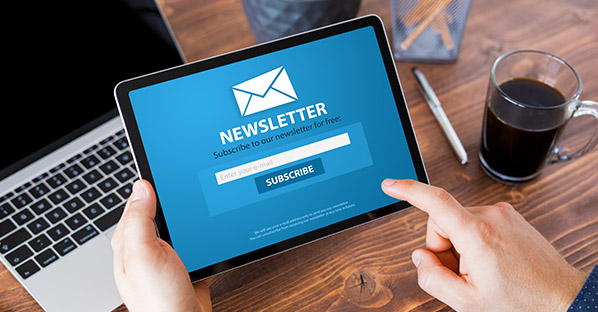 How to Build a Profitable Email Distribution List
If you want to take advantage of email marketing benefits, then your email distribution list needs constant work and attention. Neglecting it will mean that it quickly becomes out of date and possible obsolete. Why? Because email distribution lists are never static—employees leave companies, people move to new positions, or the person on your list simply stops looking at your emails.
Whatever the reasons for the changes, if you want a profitable email distribution list and to take advantage of email marketing benefits, then follow the steps below to keep the list current and growing.
Steps to take to create a profitable email distribution list
It should be simple to subscribe
Your website should include form fills on multiple pages to capture the name and contact information of people who are interested in your products or services. Keep a simple link on your website with limited fields that allows your visitors to enter an email quickly, and watch your list grow.
Collect emails when taking online orders or payments
Customers who have purchased a product from you are great candidates for your email distribution list. Collect their emails when you gather payment information, but be sure to indicate they are opting in to receive future emails from you.
Contact lookalike customers
Analyze your customer list in terms of SIC codes or NAICS codes. Determine which industries are most prevalent in your existing customer base. Then find companies similar to and in the same industry as them to target. Build a prospect list, call through it to determine who the right decision maker at the company is, offer to send them information about your company, and ask for their email address.
Verify your current list
As many as 20% to 30% of the emails on your email distribution list go bad each and every year. The result is that up to almost a third of your contacts may no longer be viewing your marketing emails. To fix this problem, you need to review your customer list, call any company that doesn't have an email address on file or that has stopped engaging with your emails, determine the email address you should be using going forward, and add that to your email distribution list.
Consistency is critical
In order to receive the maximum number of email marketing benefits for your company, email distribution list maintenance needs to be a constant activity. Once someone is added to your list, you should check regularly to see if they are still at the company and in a relevant role for your products and services. Dedicate time to find and add new businesses to your list and to replace out of date email addresses. The result will be a far more profitable list!
If you need help with making your email list as profitable as possible, the Winsby team can help.
Contact Our Team Today!
See Our Email Process