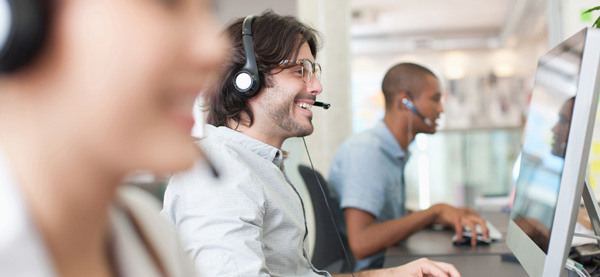 Customer Satisfaction Survey Companies in Chicago
Running a customer satisfaction survey will help you discover problems quickly and greatly increase your customer retention rate. Reminding customers to rate the quality of products and the level of care received by your company goes a long way toward showing potential customers just how committed you are to meeting their needs. Winsby conducts surveys by phone with your customers that have purchased in the last month or two.
Here are the top three benefits you'll see once you start conducting customer satisfaction surveys:
1. Discover problems you didn't know about

Winsby's research staff drafts a script that will be used to find out how your customers rate your business in key areas. By analyzing customer responses, we'll identify aspects that need improvement and look for innovative ways to address problems you may not currently know exist. You will approve the script and can add any questions that you might be particularly curious about.

2. Increase customer retention

Phone surveys allow you to prod customers for details if they indicate they are unhappy or dissatisfied with a product, service, or a particular aspect during the purchasing process. Customer retention rates increase an average of 30% for our clients, once we begin conducting customer satisfaction surveys.

3. Surveys show customers you care

An unhappy customer deserves personalized attention from someone inside your company. When you find out customers' feedback, you'll have more insight into how your customers feel about your company and how they rate specific products and services. If you receive feedback from an unsatisfied customer, you'll have the opportunity to contact them by phone and make things right by addressing their concerns. Nothing tells customers you care like giving them your time and attention.
Phone surveys are highly effective
Telephone surveys are the most reliable way to reach customers. We reach an average response rate of 97% from customers who answer a phone call, compared with the less than a 2% response rate generated by email surveys. The most common reason listed by business owners for not wanting to call customers is a fear of hearing a negative review. We encourage our clients to look at negative responses in a new light; they are opportunities for change and growth.
Full service marketing company
Winsby is your one stop shop marketing department, committed to helping you grow your business. From emails to websites to customer satisfaction surveys, our marketing experts will set up all of the services you request, provide them to you for approval, and make any adjustments needed along the way. Once everything is operating, we'll show you how to measure the results and watch your business grow. You'll find a complete list of marketing services that are essential for business growth on our website. Feel free to contact us when you're ready to get started.
Contact Winsby Today!